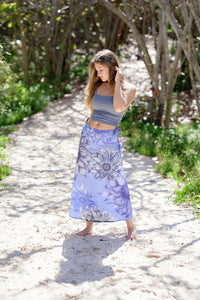 2023 Skirt - Sachi - Sunflowers - Indigo
Regular price $165.00 Sale
Sunflowers grow incredibly well in Bermuda's climate and have been found to be one of the best plants for honeybees. There are about 70 varieties. They were native to North and Central America and were taken to Europe by the Spanish in the 1500s. By the 1800s they were prolific in Russia where several new varieties had been created. These made their way back to America and comprise many of the plants grown today. They are one of the best flowers for bees as their pollen has been shown to help with a particular parasite. Have a peek at this article if you are interested. 
100% Lyocell

A-line skirt with hidden zip at the back.
Digitally printed with bio-degradable, non-toxic, eco-friendly, plant-based inks
Machine or hand wash cold. Line dry or tumble dry low inside out.
Designed in Bermuda | Made in the USA